This page contains affiliate links. Any purchase made through such links may award me a small commission, and you will not incur any extra costs. Learn more about my privacy policy here.
Who Doesn't Love Vegan Oat Cheese Sauce?
I guess if you're here, you must be a cheese lover like me. I may be biased, but this is the very best vegan cheese sauce you will ever taste!
Was cheese the hardest thing to give up when you switched to a vegan diet? It was for me! I can thankfully say that I don't crave it anymore. It took about a month to get it out of my system!
But now, I do crave THIS AMAZING BEST VEGAN CHEESE SAUCE EVER!! I hope you love it as much as I do. I seriously make a batch of it every week.
In order to make this recipe cheesy, you need nutritional yeast also known as "nooch"! This makes for a noochy-licious recipe! But, the secret ingredient is… roasted red peppers! I'm starting with the key to the whole recipe!
NOW YOU KNOW!! It gives the sauce the orange color and also brings in some great flavor. You can also add a tbsp of the brine from the jar. It adds a bit of extra zing. I do this all the time, but it's not necessary! Also, the liquid smoke brings a slightly smoky flavor, which is optional if you don't like this, but it brings another dimension to the sauce that I can't do without! Colgin has different flavors. I often use hickory or mesquite.
Vegan Cheese Sauce Ingredients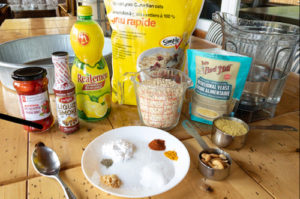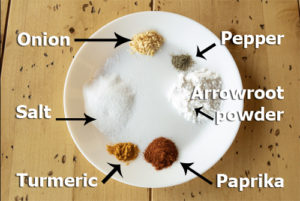 Put all ingredients into your Vitamix blender. Blend on high for about 5 minutes, until the sauce thickens and the motor sounds like it is slowing down. You will also notice that the level of the sauce is stable. This means that it is hot and has thickened. Stop the blender as soon as you reach this step.
Transfer to a glass dish and refrigerate. This keeps in the fridge for a week or more.
If you don't have a blender that heats from friction, you can still make this recipe. Blend all ingredients until smooth. Then, transfer to a pot and heat on medium, stirring frequently. Once the sauce thickens, remove from heat.
This vegan cheese recipe makes approximately 6 cups of delicious cheese sauce.
What will you eat your creamy vegan oat cheese sauce with?
Use this in any Italian or Mexican dish!
Use this for macaroni and cheese recipes
Pour it on a baked potato or homemade potato fries.
tacos, taquitos, enchiladas, tortillas, quesadillas…
vegan cheese dip with tacos
pizzas, lasagnas…
steamed veggies (broccoli and cheese!)
you get the picture…
This sauce will thicken as it cools in the fridge. When reheating leftover sauce, you may need to add a bit of plant-based milk and whisk it up. Don't worry, it will still taste great and heat up beautifully, in the microwave on 70% power.
I'm so happy to share my absolute favorite versatile "Go-To Recipe" of all time. Let me know if you try it, and share a photo! I'd like to know if you will love it as much as we do!
Satisfy your cheese cravings with this oat cheese recipe!
This is not my original recipe. It was inspired by Jill McKeever at Simply Daily Recipes. I added a few options such as white beans or cashews if you want to add more protein sources to your sauce… or hide the beans in there so your kids get that hidden nutrition!
For a yummy kid dessert, try out my kid-approved vegan chocolate chip cookies!
Best Vegan Cheese Sauce
This cheese sauce is so versatile, and delicious! You will put it on everything and become addicted! It is Nut Free and no need to cook! All you need is a high speed blender such as a Vitamix.
Equipment
Vitamix or Blendtec Blender (that heats under friction) not necessary to create this recipe.
Ingredients
2

cups

rolled oats

dry quick 5 minute oats

4

cups

water

1 to 2

pieces

roasted red bell pepper

in the jar (plus 1 tbsp of brine from jar)

½

cup

nutritional yeast

1

tsp

cornstarch or arrowroot powder

1

tsp

onion dry granulated

or 1/2 tsp onion powder

1½

tsp

salt

1

tbsp

lemon juice

¼

tsp

liquid smoke

½

tsp

paprika

if you don't have liquid smoke, use smoked paprika

¼

tsp

turmeric

optional

¼

tsp

black pepper

optional

¼

cup

white cannellini beans

optional (for extra protein boost for kids!)

¼

cup

roasted cashews unsalted

optional (for extra protein boost for kids!)
Instructions
Add all ingredients together in Vitamix Blender. Blend on high for approximately 5 minutes till heated through and thickened, You will notice the sound of the blender change and the steam when you open the lid. Also, the level of the sauce will remain stable. Stop the blender right away when this happens.

If you don't have a high-speed blender that heats, you can blend it up till smooth, then put in pot on stove to heat on medium, stirring often until it thickens. Return it to blender till creamy.
Notes
This recipe makes approximately 6 cups of sauce. 115 Calories per 3/4 cups of sauce. Add the amount of sauce needed to your pasta or other dishes. If too thick, add warm water and blend a bit more. When making pasta, reserve a bit of pasta water when draining. You can add a few tablespoons of the pasta water to the cheese sauce when mixing into the pasta. Enjoy!
I love the Vitamix Blender. I got mine refurbished from Amazon and highly recommend it. I have had no problems with it and just love that it blends everything so smoothly and even heats up under friction. Check it out here.
Denise has been vegan since 2017 and in that time, has veganised her life. Her passion is helping others do the same. She has published a vegan guidebook entitled "Simply Happy Vegan" and writes about everything to do with a healthy plant-based lifestyle.
If you liked this post, please comment, pin or share it with others who would enjoy it! Thank you!