Tips for Vegan Road Tripping with Kids
Keeping it Vegan
in the car for 3 Days… 2100 miles…
Road Trip – Day 1
The alarm wakes us at 6:30 am!  Time to get going on our 3-day road trip! We have been making this trip for 10 years in a row! Getting to our destination on the cheap means we won't be making any scenic stops along the way! And I will share some easy vegan eats and tips for Vegan Road Tripping with Kids!
Traveling with our LITTLE RED CAR allows us to save money on gas. Therefore, it makes our frequent trips super affordable. We attach our Thule carrier, which gives us much-needed storage space! Loving our Thule!! It rocks!
The girls have plenty of space in the backseat, consequently allowing them each a bag of books and things to keep busy.
Food for our roadtrip
We have two bags of food in our trunk from what I cleared out of the fridge this morning.
carrot sticks and hummus
peanut butter and jam sandwich
chopped up salad
oranges and apples
homemade vegan cookies
almonds and currants
veggie straws and veggie chips
croissants
tea
Powerade drinks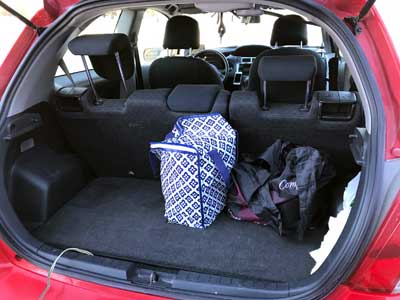 We arrived at the Pembina/US border at 11:00 am. After a half-hour line up wait and a bathroom break, we're on the road again. Yes!
Getting to Florida with our small car
Yep, we're off to Florida, all the way from Winnipeg, Canada! Follow us thru these 7 US States to get to our destination:
North Dakota
Minnesota
Wisconsin
Illinois
Kentucky
Tennessee
Georgia
Have a great day!
This sunny day and an uplifting sign are setting us up for a good trip!

The girls kept busy drawing, playing various car games and Mindtrap,  reading, munching on food, and watching downloaded Netflix episodes on their Ipads.
Vegan groceries at Walmart
Taking a break to get an energy drink for the driver, and a few more veggies for our hummus! Kayla and Aly found some healthy options at Walmart (minus the sushi)! They know how to make a successful Vegan Road Trip with Kids! Mom approves.
Let's keep on rolling while we eat! My put-together salad from home was delicious and filling with avocado, apples, currants and chopped peppers topped with balsamic vinaigrette.
The girls had
vegan croissants (from home)
veggie chips and
raspberries.
Eating vegan on the road can sometimes be a challenge for fussy eaters… you will find individualized fruit trays and cups and veggies in the deli section. We also love to grab a loaf of bread from the bakery and I make sandwiches on my lap! Ask the driver to alert you if he needs to make any sudden stops!
Rest Stops, Gas Stations, and Hotels
A few of our stops today… these rest stops are great and clean. Fill up your water bottles!
Most gas stations like these have microwaves for our use, so take advantage of this. They also have a deli with hot and cold food and bakery items (most likely not vegan). I have seen some fruit cups and salads too. We made 9 stops today! wow! When will we get there? (The kids don't ask anymore…)
Tired, we stopped at a Super 8 in Windsor, WI at 11:20 pm. We had a full day and drove 756 miles today!!
The motel was quiet, comfortable and relatively clean. They offered breakfast too, so it was a good deal at $88. All I usually eat at these continental breakfasts is toast or oatmeal with tea. The girls will have toast and juice or peanut butter and jam sandwich.
To clarify, and before you ask, those make them yourself waffles are NOT vegan. (I asked a kind worker there who showed me the label on the pancake mix bag. How sad!)
Road Trip – Day 2
8:20 am, time to hit the road! We are getting further south Therefore, it's nice to see that the snow is pretty well melted now! YAY!!
Welcome to Illinois
Illinois is so large, and we are up for a long drive today with cloudy skies.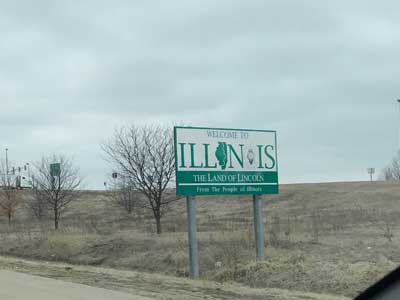 Our mid-morning rest stop, and wind turbines.
There are so many semis on these highways!
Time for another bathroom break and tea for the road. I drink green tea (I bring from home) and refill my hot water here!
Carnivore Alert – Look Away!!
My husband's lunch at McDonald's… I despise this place… sorry, the contents of the bag will NOT be photographed…ABSOLUTELY NOTHING VEGAN AT MCDONALDS, EXCEPT PLAIN BORING SALAD… I DON'T EVEN TRY…
These old structures along the highway give me a nostalgic feeling. Can you picture what it would have looked like decades ago? This has nothing to do with anything whatsoever… I digress…
Aldi's – I love this Supermarket!
Vegan Road Trips work best when grabbing some healthy snacks at Supermarkets! The following items kept me alert and satiated much more so than fast foods!
bread
hummus
grapes
snap peas
Back on the road at 2:10, we try to make our stops short and quick. It's tough getting back in the car when you want to move around!
Thank God!
Here is our halfway point, at exactly 1100 miles on our odometer. This is a good reminder to thank God for safe travels!
Hmmm, Asian Buffet?
Asian Buffet stop for dinner, where you can fill your takeout container at the buffet. A good option to eat on the go, if you want something a little different.
My husband is sadly NOT Vegan, so look away!!
They fried up some noodles and vegetables for me, but I was disappointed in the vegan sauce options. Soy Sauce, that's it! So, not the best flavor enhancer on its own. I think I'll just stick to Mexican… they have much better vegan options! (I'll post about that soon!)
Kayla's takeout included a few sneaky meat items… Sometimes she has a carnivorous craving… but I am encouraging her otherwise. Not 100% Vegan Road Trip with Kids approved Kaylee!
Aly's takeout is pretty sad… she is just a bit too fussy on veggies, so it's all white rice! Yikes!
Things are looking prettier and greener outside now! yay!
Does every family have a silly thing they do on road trips? Ours is opening the windows wide (regardless of the outdoor temperatures) and screaming every time we drive over a bridge! AHHHHHH!
So we finally leave Illinois after 8 hours of driving thru! Ugh, that was long and boring… I've been doing many crossword puzzles on this new app!

Kentucky Fried Chicken? Nope!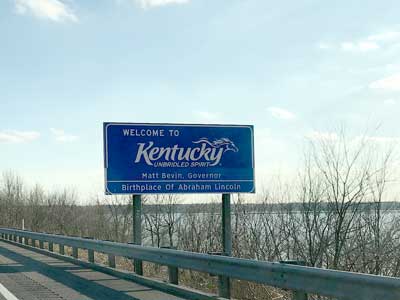 We are only through Kentucky for 1 hour and 40 minutes. No Kentucky Fried Chicken stops for us! Keeping it Vegan, remember?

Welcome to Tennessee!
Driving through Nashville, TN at 7:45 pm.
We are 2/3 of the way to our destination!
ALERT- Nasty Motel!
We arrived at Monteagle, TN. I won't mention the motel name, but I was not comfortable with the look of things, to say the least! If the front office and few undesirables loitering about didn't deter us, the room did! The soiled bedsheets, carpet, and bathroom had us running back into the car while my husband went in for a refund! I draw the line!!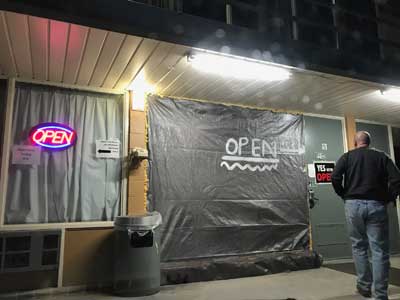 We stopped driving at 9:30 tonight. We stayed at a neighboring Super 8 for a deal of $70. Not the cleanest again, but very quiet, comfortable. And it included another simple continental breakfast to get us on our way. Let's go, the final day!

Road Trip – Day 3
We left Monteagle, TN at 7:20 this morning, anxious to get to our destination early.
Only down south will you find a Piggly Wiggly Grocery Store!
This is the part of the drive that is the prettiest. For example, there are beautiful views of the lake winding through the mountains… and everything is greener. You can also spot some little waterfalls in the rocks bordering the interstate.
The time changes to Eastern just before Chattanooga.
Pizza… kinda…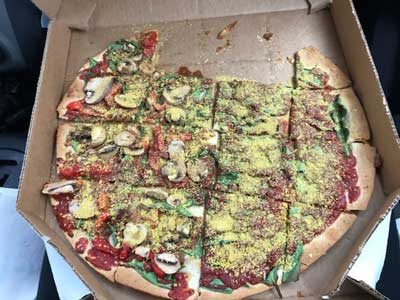 Well, who doesn't love pizza right?  Here is my ultimate FAIL! After a carefully detailed order and a 20-minute wait, we received our Vegan thin-crust Dominoes 1/2 cheese, 1/2 veggie Pizza (without the cheese). I purchased some nutritional yeast at Walmart to sprinkle over top to give it that cheesy flavor. I was soooo disappointed! The tomato sauce was overbearing and the crust was tasteless. I believe Little Caesar's does a better job. Note for next time! I really look forward to fast food pizza places to get soy cheese pizzas!
Welcome to Georgia!
We are now in Georgia at 9:30 am. Too bad peaches are not in season yet!
Driving through Atlanta, snacking on leftover fruit, bread and whatever else we can salvage at the bottom of our bag. By day 3, we are getting a bit tired of this way of eating and looking forward to our normal meals!

Welcome to Florida!
Entering Florida at 5:10 pm. You can literally feel the humidity rise as you enter the state!
We finally arrived at our sunny home at 7:40 pm! We hustled today and made great time! Now we can enjoy our stay!!
Cost breakdown
The entire 3-day drive down to Florida cost us $425.57 USD.
Well worth it for a family of four!
$145 gas (little car makes big difference)
$158 hotels (not 5-star, but oh well)
$122 food & misc (pretty cheap for 4 of us!)
I hope you enjoyed our Vegan Road Trip with Kids. As you can tell, we were most successful when picking up food at supermarkets and munching when we got hungry. I would love to hear your ideas on easy snacks and mini-meals to eat on the road! Please comment below!
Disclaimer
This page contains affiliate links. Any purchase made through such links may award me a small commission, and you will not incur any extra costs. Learn more about my privacy policy here.
If you liked this post, please comment, pin or share it with others who would enjoy it! Thank you!