Impress your family with this fun aquafaba whipped cream! Your kids will think you're a magician when you make whipped cream out of the liquid from a can of chickpeas!
You may never look at a can of chickpeas the same again!
But it sounds kinda gross… whipped cream from a canned chickpea water? ewwww…
It's really not disgusting at all, try it once and you will see. You have nothing to lose by trying it out right?
It's fat-free, and vegan, and it's better than cool whip!
Today, I made whip cream out of aquafaba. 
What is aquafaba?
Aquafaba is the liquid that results when beans are cooked in water.
As the experiments continue, novices are advised to use three tablespoons of aquafaba to equal one egg. The bean juice seems to work equally well whether it comes from a can or from a fresh batch of homemade cooked beans, and it can be frozen for later use. Although most any beans will do, including black, kidney and soy, chickpeas (a.k.a. garbanzo beans) tend to be the preferred variety for their milder, less "beany" flavor.— Kristen Hartke
Whatever the reason, aquafaba delivers. Dump a can of chickpea water into a mixer, and it froths instantly, like bubbles in a bath, and whips into stiff, glossy peaks. It retains a slight beany aroma in the bowl, but that disappears when cooked. There is no residual flavor, and few calories.— Jane Black
(Merriam-Webster Online Dictionary)
This page contains affiliate links. Any purchase made through such links may award me a small commission, and you will not incur any extra costs. Learn more about my privacy policy here.
My favorite mixer comes with many attachments for multiple uses. I love it for whipping whipped cream, making cakes, cookies, bread dough, etc.
Aquafaba whipped cream
It started with a can of chickpeas, (salted or salt-free, it doesn't make much difference) where I drained the water and actually froze it for later use. When I was ready to use it, I thawed it in the fridge overnight. Whipping up the aquafaba works best with cold liquid, and I also put my mixing bowl and paddle in the fridge for half an hour prior to mixing. This is a good tip, especially if your kitchen is warm. 
Aquafaba Whipped Cream Recipe below
QUESTIONS ABOUT AQUAFABA
Q – How long will aquafaba keep in the fridge?
A – Aquafaba can last about 5 days in the fridge.
Q – Can aquafaba (the liquid) be frozen?
A – Yes, you can freeze aquafaba. It works as it normally would when you thaw it out and use it in your recipe. I often reserve the water from a can of beans and put it directly in a sealed container in the freezer, for use at a later time.
Q – Can I freeze Aquafaba Whipped Cream?
A – Yes, try freezing your aquafaba whipped cream right away after whipping it. It will stay fluffy in the freezer, and you can use it as you would cool whip, right from the freezer.
Q- What does Aquafaba mean?
A – Aquafaba is a Latin word meaning bean water.
So, we make it sound fancier by calling it aquafaba (instead of boring bean water). Who likes the sound of that?
Q – Can you use the bean water from homemade cooked beans?
A – You can use your homemade aquafaba (bean water), but make sure that you don't cook your beans in too much water, as the aquafaba will be diluted and may not whip up as easily. If you have too much water, you can try to simmer it down to reduce it and make the liquid more concentrated. Then refrigerate it and try whipping it then. Don't use more than 3/4 cup liquid at a time.
Q – What does aquafaba taste like?
A – Aquafaba is quite tasteless, until you mix it with other ingredients. It has a very mild bean like flavor, which you can hardly taste, even in the Aquafaba Whipped Cream recipe. 
Q – What beans make aquafaba?
A – Aquafaba comes from all kinds of beans and can be used in any recipe. The most popular bean water used for recipes are chickpeas and white beans.
Q – Can aquafaba replace eggs?
A – Aquafaba is used especially in vegan cooking as an egg white substitute.
3 tbsp of aquafaba = 1 egg white
Q – Can aquafaba whipped cream replace coolwhip?
A – Yes, you can use the aquafaba whipped cream recipe here and use it the same as you would use cool whip!
Q – Can aquafaba replace oil?
A – The consistency of aquafaba is very similar to vegetable oil. Baking is a bit of a science, so you can try replacing the oil of your recipe with aquafaba. You can try half oil and half aquafaba. It's also great for cookies and muffins or just about anything else really! Use an equal amount of aqua faba to replace the oil in any recipe.
Q – Can you whip aquafaba in a blender?
A – Because thin aquafaba needs to be whipped fiercely to achieve peaks, a powerful stand mixer really is the best tool for the job — don't even try to whip with a whisk – this is a 10-minute mixing job! A hand mixer can work if that's all you have, but you might not get the same consistency that a stand mixer will give. A blender or immersion blender will not work.
Q – What can aquafaba be used for?
A – There are so many more recipes you can make with aquafaba:
meringues
mousse
vegan macarons
ice cream
aquafaba whipped cream
vegan marshmallow fluff
pavlova
brownies
waffles
vegan butter
chocolate chip cookies
breakfast burritos
vegan mayonnaise
nougat
fudge
baked Alaska
egg white cocktail
buttercream icing
soda bread
vegan mozzarella cheese
vegan kit-kat bars
vegan aioli
These are just a few, as the possibilities in baking and cooking are endless!
The Best Aquafaba Whip Cream Recipe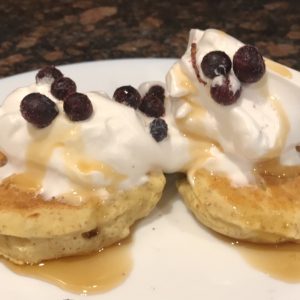 Aquafaba Whip Cream
Enjoy a light and fat-free vegan whip cream on your pancakes or favorite desserts! Easy and fun to make!
Ingredients
1

can

chickpeas/garbanzo beans

drain juice only, use beans in another recipe!

1/4

tsp

cream of tartar

or 1/4 tsp lemon juice

1

tsp

vanilla

white or brown is fine

3/4

cup

icing sugar

add it slowly as it's mixing - don't dump it in all at once
Instructions
Mix on high for a total of approximately 10 minutes, all while adding ingredients. Add 1/4 tsp of cream of tartar (or 1/4 tsp of lemon juice) once it gets foamy.

Then in intervals, as mixer continues, add 1 tsp of vanilla, and 2/3 cup of icing sugar (because it's light). 

Keep mixing till you see peaks. Stop it right away when it does peak and check the thickness, so that you are sure it's not too soft. If it's just right, stop mixing. You can overmix this and it will flatten out again.

Once it's done, if you want to add some richness (and fat) to it, add 1-2 tbsp of light oil such as canola. Only mix this in once peaks have formed, and mix for 5-10 seconds. Do not overmix this, as it will go flat. 

Aquafaba will keep in the fridge for 5 days or so. The whipped cream will deflate after a few hours, but you can re-whip it again and again and it will come back to peaks in 2-3 minutes. Make sure again to have the mixing bowl and paddle cold to get the best results. If you have added oil to your whip cream the first time, it most likely will not re-whip, so I'd use up the whole batch in one sitting.

TIP: Also, don't put this on puddings or pies unless you are planning to eat it all right away. It will deflate and look messy if you put it in the fridge for later. This whip cream must be added to your dish just before you eat it. So spoon it on individual servings to be eaten right away.
Enjoy this fun recipe and try some new ones too! Aquafaba is great because it's plant-based, naturally gluten-free, low in calories, and can mimic the consistency of ingredients like eggs and dairy for those who choose or need to avoid them.
Denise has been vegan since 2017 and in that time, has veganised her life. Her passion is helping others do the same. She has published a vegan guidebook entitled "Simply Happy Vegan" and writes about everything to do with a healthy plant-based lifestyle.
If you liked this post, please comment, pin or share it with others who would enjoy it! Thank you!
.